---

I present to you Bobby's World, monthly musings from the one and only Hubby!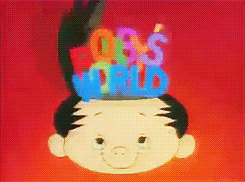 ---
A few weeks ago, a fellow teacher and I were talking about our upcoming field trip to Washington DC and inevitably got on the topic of Arlington cemetery, which led to further conversation on the D-Day invasion during WWII.
We were talking about what it must have been like to have been a soldier on that stormy morning of June 6th 1944. Perhaps you had volunteered after the bombing of Pearl Harbor. Or maybe you had been drafted later as a replacement, as the death tolls rose higher and higher. Regardless of how you got there, you were crammed into a boat with other young men who were all asked by their country, future and present, to answer the highest call of citizenship; to defend their country and their freedom.
The other teacher and I thought out loud, "What must have been going through their minds?" As the low rumble of the Higgins' landing-craft motors churned through the high waters, I can imagine their hearts and minds trying to cope, sort and make sense of the barrage of emotions that were being thrown against them. Memories of home and loved ones far away, dreams of the lives they'd live if they returned home, silent prayers uttered to God above; all the while fear of death lingering in their thoughts and being stifled as deep down as possible. I'm sure many of them accepted what seemed to be the inevitable, and stared into the dark waters thinking of nothing at all.
And that fear of the "inevitable" was well warranted. The first wave at Omaha beach would endure a staggering 50% casualty rate, according to more conservative historians. Imagine for a moment, your life determined by the probability of flipping a coin.
It was in these young hands that our future hung in the balance. Many in their early twenties, and a few probably eighteen years old. What weight, what responsibility pressed upon that American youth who were asked to sacrifice their world for ours. Known as the "greatest generation," it was not as much that they earned that title as it was simply who they were all along and displayed true greatness under such incredible pressure.
(One of my favorite post-rock songs written on behalf of the Greatest Generation. Instrumental.)
These men were heroes. They fulfilled Hemingway's definition of courage as being "grace under pressure." And such grace must be strong if it is to compel men forward across a half-mile of open beach under the hail storm of endless enemy fire.
This Memorial Day, I encourage you to remember those who have fallen on behalf of our nation, across our nation's history and around the world. Personally, I like to close my eyes and think about the places that they went and the conditions that they faced. The frozen ground of Valley Forge and the rolling hills of Gettysburg. The fields of the Somme and the jungles of Vietnam. The forests surrounding Bastogne and the deserts of Iraq. The Chosin Reservoir of Korea, where my deceased neighbor Frank watched his entire platoon disappear in minutes. A small, unnamed village in Afghanistan where 1st Lt. Daren M. Hidalgo, my mentor and company captain at West Point, would pay "the last full measure of devotion."
This post is kicking off a series for my future monthly posts, appropriately titled "Hero Series." Through these posts, I will be highlighting some personal heroes of mine (some real, some fictional) and calling out their character traits that I hope to model in my own life. While it is my hope that you may be introduced to some new heroes and to hear some interesting stories about the lives of some personal heroes of mine, the goal is that you would be inspired to think about your heroes and what it is about them that make you look up to them.
Who your heroes are says a great deal about you. It shows what impresses you, what you hold in high esteem, what you value and who you strive to be. I look forward to sharing my heroes with you over the next few months, and I hope you do the same with me.
*Hero #1 Hint* My next post will focus on a person who was called "Plain Jack" growing up, Irish by birth, middle name was Staples, and died on the same day as the John F. Kennedy assassination. (No googling for the answer!)