Any one else want to be like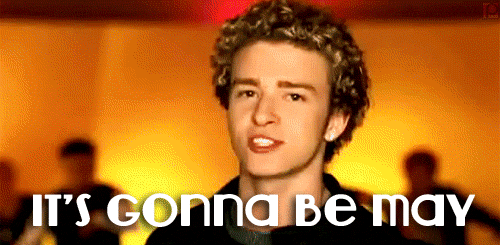 but oh wait, you can't. Because it IS MAY!
It feels like a big prank, but it really is May already. Like two-more-months-of-the-school-year-left May, like college-kids-are-just-about-done May, like where-the-heck-did-April-go May. Somehow we are here, and I am itching to catch up with you over a nice cold cup of joe!
The Highs
Welcome to Michigan
This year Hubby and I scooped up his youngest sister and hightailed it to Michigan for spring break. My brother and sister-in-law live out there so we had such a sweet time catching up with them and exploring the Mitten.
Explore we did! We spent a day on the west end of the state in Holland and Grand Rapids. Friends, Holland is adorable. We had to grab some Dutch grub for breakfast, so we hit up a little spot called DeBoer's. yum.
Then we just took it slow through all the adorable little shops, grabbed some coffee and enjoyed each others company.
You know me, so you know we went to the beach. Lake Michigan is unbelievable. Breathtaking beauty. 
You know we went to New Holland Brewery before we left. Dragons Milk is the business! 
We hopped over to Grand Rapids

because you simply can not be a beer lover in Western Michigan and not go to Founders.
Later in the week the Michiganders had to work, so the New Jersians (Jersey-ers ?) took an adventure through Ann Arbor. Oh my. We fell in love.
For the sake of the Hubby and his sandwich loving sister the first stop upon arrival was Zingermans Deli. It lived up to all the hype. In fact, I am drooling now just thinking about the cuban sandwich (that my gluten sensitive self got on a salad, because they had that as an option!)
We had great weather while in Ann Arbor, so we spent the day walking the streets in search of art, and we found plenty.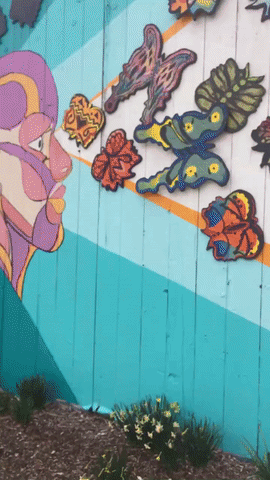 I fell in love with the social conscious of this place. Every book store and coffee shop we went into featured art, literature etc. of a wide range of people. Just look at all these childrens books with diverse lead characters. Also I want to only ever drink this coffee, both for the name and the taste.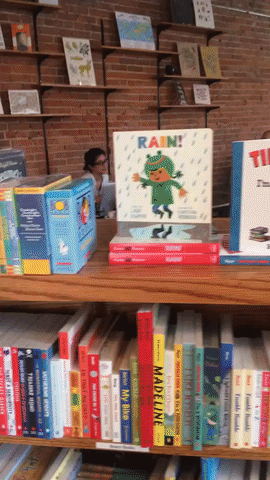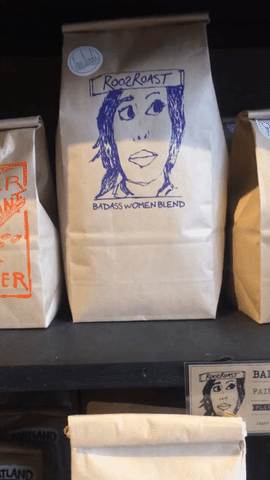 We live such blessed lives to be able to explore the way we do. It was an incredible trip, with much need rest, reconnecting and fun.
Folsom Records Show
Hubby and I have been calling this "The Year of Concerts." I almost died when I saw the Twin Forks was touring, and stopping in NYC! You know we jumped on that. I will love Chris Carrabba forever and ever. Dan Layus and The Social Animals totally won me over. The show was so good, it was worth the SPRINT through Times Square afterwards to catch the last bus back to New Jersey (we were those people, we caught it with 2 minutes to spare, TWO).
BABY
You already know the highest high of April was becoming an AUNT! 
(all the sass though)
The Lows
Honestly, April went by so fast that no lows stand out to me. But, this past Friday was one of those days where so. many. things. went wrong you have to laugh about it. Let me tell you in list form:
 Woke up with just enough time to make myself some coffee and bring it to work. While making with a pour over, I knocked the edge of the little contraption, sending burning hot liquid and wet coffee grounds in a downward explosion all over everything (me, the ground, the boxes of books nearby, all the mugs on our coffee cart). Have you ever had to clean up wet coffee grounds from the floor?  Needless to say, I did not make it out of the door with coffee.
Had to run to Target for a few things. The little guy I nanny was a champion, but I wanted to get him home, Target is no fun for a little man. Decided to grab some Starbucks on the way out, since by now its about 1030 and I still haven't had coffee. have to put down my bags to find my sunglasses. Walk all the way to the car (which is parked far away to get in the steps on fitbit of course), get a screaming kid into his carseat (because he hates that part) and realize WHERE IS MY FITBIT. Unbuckle said screaming little one and run back into Target praying its at Starbucks so I do not have to back peddle through this whole friggin store. Praise the Lord it was, but a moment of silence for those active minutes lost to my fitbit account. . .
Go to pull out of Target, coffee just chilling in the cup holder, a bit too hot to drink after running through a parking lot and all. Begin to pull out slowly and an old man decided he has got to GO even if my car is in his way. Yup, backed right into the side of my car. Amazing. (It was not that bad, in fact it was such a gentle run in that i had to honk before he realized what was happening).
Too shaken up to drink said coffee, still it sits. We make it back to little mans house, I go to grab the coffee, and the cup has just about disintegrated. Half the contents just chilling in my cup holder. So I have to run into the house, kid in one arm, coffee dripping down the other.
After a pretty chaotic day, I get home around 3 and finally eat some lunch. I have to quickly get ready to hit the road with hubby for a weekend conference, grab my make up bag to find my Micellar Water has leaked on all the things.
Clean up make up bag mess and go to get dressed, discover my favorite jeans have some mysterious green stain on the knee. It looks like a grass stain, but I have no recollection of rolling around in grass, yet here we are.
Hit the road to New Hampshire and inevitably endure 1.5 hours of traffic through the entire state of Connecticut. But as the miles ticked up the day seemed to wash away. That is until my darling hubby thought it funny to say "wouldn't it be fitting for you to finish this day with a sweet ticket." No hubby, no it would not. I am happy to report, I did not get a ticket, and the day ended with everyone breathing, so all in all it could have been worse.
What I Read
The Keto Diet by Leanne Vogel : One of the major reasons I was drawn to whole30 was to try a natural approach to correct some hormone imbalances I have been dealing with for some time. The internet rabbit trail of whole30 and hormonal issues brought my attention to Keto, specifically to Leanne. I have been following her for a little bit and when her book came out earlier this month I jumped on it. I have learned a whole lot, as I keep experimenting with this approach I will keep you guys posted. I will say, so far so good!
So maybe my reading was slacking a bit this month . . . 😳 🤷🏻‍♀️
What I Watched
Big Little Lies : I read the book last year and loved it. The series was very well done, but I cant remember the book well enough to tell you how accurate it is to detail. Definitely worth a read &  watch (though I should caution, there are some racy bits).
What I listened to
Dan Layus : remember Augustana anyone? The lead singer has been doing some solo stuff with a country twang that I can get behind.
S- Town : I do not even want to waste my time telling you about this (which is why I wont link to it, take THAT) except to say I hated it. We invested so much time for nothing. Do not believe the hype friends.
A little gadget I loved
My sister in law got my interested in this little thing called a PopSocket. I do not want to encourage anyones (read: my own) phone addiction, but this little guy makes holding the phone so much more comfortable.
What I'm looking forward to:
I have a week off in May, hoping for good weather and maybe a beach trip (or two).
Our first wedding of the season will be later this month as we celebrate some dear friends!
Memorial Weekend! Hubby and I are still trying to finalize plans, but you know we will be headed somewhere.
How are you? Were you just as surprised by May as I was? Tell me all the great things that happened to you this month! What are you looking forward to?