Hello sweet friends. We are ten days into July and we haven't caught up about June yet! My oh my the Fourth of July festivities really threw me for a loop, in the best way of course.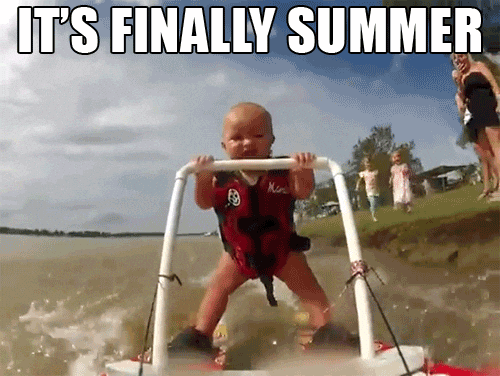 How was your June? Did you enjoy the start of summer? What have you been up to? Grab yourself a nice cold drink and lets chat.
The Highs
You can call me The Godmother
Hubby and I have upgraded from Aunt and Uncle to Godmother and Godfather! We are so honored. We took a weekend trip to Buffalo, and when we walked into my parents house we, obviously, beelined it for Kinsley who was decked out in this super sweet onesie, asking us to take on the job!
Ty's Graduation
One of my besties finished up his degree at NYU. Seriously I could not be prouder of him and Mariah for all that they accomplished as a team. I am in awe of how they sacrifice for each other.
Working an emotionally tough job is not easy. Going to college and maintaining a killer GPA is not easy. Doing all of that with your best friend 300 miles away is damn near impossible. They are heroes.
We had an incredible time celebrating him and reuniting with old friends. Not to mention Mariah is a kick-butt party planner.
The Lows
Stranger danger
June is a freaking hard month for teachers and their families. Hubby was busy with school trips, dances, graduation, retirements and all the parties. It is great fun, but it keeps us pretty disconnected. Don't worry though, we had a little getaway the beginning of July to reconnect.
Moving
We said goodbye to our place on Pine and high tailed it for Bergen County at the end of the month. Seriously moving is absolutely the worst activity. We spent the entire month packing up slowly and moving a car load of boxes just about every weekend. I can't say enough how thankful I am for family and friends that help us so selflessly. I am excited and hopeful for this next season, but we have really loved Montclair, so it was hard to say goodbye.
Side note to compound the sadness, we spent our last day celebrating Montclair by going to all of our favorite places (this of course was not sad, in fact it was wonderful). The number one place on our list was The Corner, our favorite breakfast/brunch spot on Walnut street. Imagine the sound of our hearts crushing when we realized they were closed for a week of vacation. Womp womp.
What I Read
Women, Food, and God – Geneen Roth
I was wanting so much more from this book. I had read Breaking Free From Emotional Eating, and learned so much that I had high hopes for Women, Food, and God. Unfortunately it was less informational and more story telling. Perhaps if I had expected that I would have enjoyed it more. If food psychology is interesting to you, I would skip this one and go for Breaking Free From Emotional Eating.
Wonder Women – Sam Maggs
This one on my summer reading list. I am going to be honest, I didn't read cover to cover, but thumbed through the women who's stories caught my eye. Maggs is witty and relatable in her story telling, which made for a fun read.
What I Watched
Master of None
So this was a little hit or miss for me. I adored that Aziz Ansari is unafraid of dealing with issues that are not discussed enough and with intellectual humor. But, there were a few ideas I just couldn't get behind and some issues I wish he would have went further with. But all in all, worth a watch if your looking for a light hearted but still thought provoking.
What I Listened to
Invisibilia
This is a podcast I have loved for a while now, and this season did not disappoint. In general the ladies of Invisibilia deal with "the hidden forces that control human behavior" and this season was focused on how we perceive reality. Very interesting.
I also have not stopped listening to Chance. Your Welcome.
Some things I Loved
Packing plastic wrap. 
This is not a joke. If you are moving, this stuff will make the process so much easier. For. Real.
Chameleon Cold Brew
I am just about positive we would have killed each other moving without this sweet sweet medicine. Also, the vanilla. So. Good.
What I'm Looking Forward To
Summah, summah, summah time (which means all the trips to the beach, weekend getaways, and our 5 year anniversary!)