I present to you Bobby's World, monthly musings from the one and only Hubby!  A few months ago he introduced us to his Hero series. Check it out here is you want a little refresher.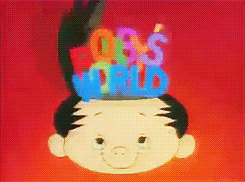 ---
"Are you talking about him, again?"
The unexpected question instantly stopped my intense conversation. I was immediately flooded with a sense of guilt and shame, but I felt a surge of pride rise above it. I looked at my co-conspirator, whose eyes were looking down at his shoes. I puffed out my chest and responded to Megan's question with a classic, "Yeah? What's the big deal?"
My middle school retort was returned with a mighty one-liner, "I just don't get it… he's not even real."
What a blow. I was staggering from her profound point of truth, coming to terms with the fact that she was right while simultaneously reaching for something quick to respond with. I settled for a weak parting shot; a soft, emotionally-charged, "Well… he's real to me," and I walked away before Megan could throw another sick burn at me.
First, let me say that this story is probably highly inaccurate, as it is told from my perspective which is often relived and retold in a highly embellished and romanticized fashion. Nonetheless, this is how I remember Megan calling me out for constantly talking about one of my most beloved heroes. Yes, I admit he is not real, but as stated earlier, "He's real to me."
And I am not alone in my admiration (or in my belief/hope in his actual existence) for this next hero. Here are the words of a few of my close friends in their description of the legendary Coach Eric Taylor.
"…he wants good things for other people. That's not usually sincere, but it is with him…"
"…the way he puts others above himself…"
"…he's a man of character. He holds fast and stands up for his principles even when it's going to cost him or it's uncomfortable… He's not perfect, but the things he says and does show his compassion for others… I want to be a man like that…"
"Coach Taylor has the immeasurable talent of being able to make even the lowliest of football players feel like the biggest asset to the team… and the ability to look into the eye of the struggle and say, 'I will come out on the other side a stronger and better person,'… He isn't afraid to fight for what he believes in."
With references like that, you don't need a resume.
Coach Eric Taylor is the central character on NBC's beloved series Friday Night Lights. For those of you who have not yet revelled in the glory of that which is FNL, go to Netflix right now and watch the pilot episode. Straight shekinah glory. If you don't have the time, you can watch the trailer here, but I strongly recommend you make time to watch the first episode. I'll see you in forty-five minutes.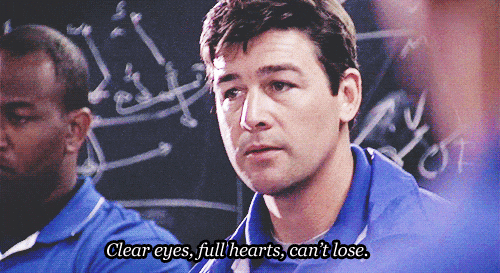 The story of FNL focuses on the small town of Dillon, Texas and its high school football team in all its glory. For better or worse, the town revolves around football, making gods out of its players and a place of worship out of its high school stadium. The series is full of characters who are consistently faced by their own demons; escaping generational cycles of uneducation, fatherly abandonment, the allure of significance and success in sports, physical tragedies, romantic infidelity, questions of identity and feeling lost, and the seemingly unquenchable desire to flee the small town of Dillon. Amidst this small town bubble of conflict, chaos and football, Coach Eric Taylor steps in. He is the proverbial rock of his family, team and community at large.
For me, Coach Taylor is so mythic, so legendary, that it is almost impossible to describe what makes him who he is. Anyone who has watched FNL before knows exactly what I am talking about. I beg your forgiveness for my feeble attempt at trying to describe "Coach."
Coach Taylor is the hard-nosed coach figure that seems to be of a bygone era. He has no problem setting a fire under his players with some well peppered "motivational" talk. (You can check out some of his most powerful quotes here) He'll let you know when you've messed up, and you'll be better for it. His standards are high, and if they're not met… well, there's always next season. And by standards, I mean physical as well as moral. Character and integrity are not an afterthought of his athletes, they are an uncompromising expectation. Even with the immense pressure of having to win games in order to keep his job, Coach continues to cultivate an unwavering ethos of total excellence that lifts up everyone around him. And for many of the young men that play for him, that is just the kind of man that they need in their lives.
Coach is a father to many fatherless boys, both physically abandoned and emotionally neglected. The Art of Manliness perhaps said it best;
Coach Taylor loved to win football games. But watching the young players he coached mature and develop into good, strong men gave him even more satisfaction. Coach Taylor knew that many of his young players looked to him not only as a coach, but also as a mentor and father figure. Eric Taylor didn't ask for that role, but he took it on because he understood that the greatest thing a man can do is leave behind a legacy of manliness by nurturing and fathering young men into manhood. (Brett and Kate McKay)
For some, Coach offered space on the couch when they had nowhere else to live. For others it was playing table tennis late into the night or throwing a football around out in the street. And for others still, it ranged from intense conversations calling them to step into their manhood or reverent silence as he stood next to them through their darkest moments. Any growth that these young men underwent is partially owed to the molding and shaping effect that Coach Taylor had in their lives. In fact, Tami Taylor (Coach's' wife) speaks this truth to him when she says, "You are a teacher first, and you are a molder of men."
Speaking of which, one of the great successes of FNL is that I cannot talk about Coach Taylor without talking about his powerhouse wife, Tami Taylor. The guidance counselor at Dillon High and right arm to Coach, Tami is strong, passionate and focused. She keeps Coach in line and keeps him balanced in the decisions that he makes. Having two strong personalities in a marriage definitely makes for some very raw conflict between the Taylors, but both Eric and Tami are deeply committed to the marriage that they have. It is so refreshing to see marriage lifted up, realistically depicted and not bashed. It's sad but it was almost shocking to see something so incredibly normal; a marriage of between a man and a woman who, though each flawed, have strengths in their own right and love each other deeply. For me, Coach Taylor represents a man committed to building a good marriage, even when it is not easy.
Consistently throughout the show, Coach Taylor is faced with situations that require him to dig deep and fall back on what he has committed himself too. He doesn't always get it right, but more often than not, Coach Taylor is a man who refuses to abandon what he holds as deep convictions. His principles rise to the surface when pressured by the media, the school district and individuals of influence in the town and on the team. Ironically, Coach Taylor suffers some stretches of low public approval during his time as head coach of the Dillon Panthers. Often his decisions are second guessed and exploited by those that seek to cause him difficulty or get him fired. But popularity is not what he's concerned with; it's the integrity by which he coaches and the example he sets for others. In perhaps what is the greatest FNL quote, Coach Taylor says "Every man at some point in his life is gonna lose a battle. He's gonna fight and he's gonna lose. But what makes him a man, is that in the midst of that battle he does not lose himself." Coach Taylor certainly lost many-a-battle, but he refused to lose himself. Resolving to live by one's convictions regardless of the outcome or by what others' think or by what is popular is in high demand these days, and one of the greatest lessons that Coach Taylor has taught me.
Though I hate to admit it, Coach Taylor is not real. But writing this post had me thinking about some real life coaches and mentors that helped me become the man I am today. The influence of others in my life has been immeasurable, and the following people are only the tip of the iceberg with regard to who has helped to mold me. Here is to the real Coach Taylors of my life.
Coach Larry Strothers – The first real Little League coach I ever had. I played for him on nine separate teams over the course of my time playing baseball. He taught me that being great at anything had to begin with doing what is right, playing with class, integrity and sportsmanship.
Coach John DeJager – My JV baseball coach in high school. No way around it; our team worshiped this mountain of a man. He taught me what it really meant to be part of a team, part of something bigger than yourself and to lay down your self interests for others.
Mr. Sean Cosgrove – USI & AP Government teacher in High School. He's the reason why I became a history teacher. He taught me to be a free-thinker, to love the Constitution, to care about people, and to live passionately for something in this life.
Dr. Stephen Bennett – My Old Testament professor at Nyack. He was foundational for my faith, helping to pull me closer to Jesus when I was far away. His Monday morning five-minute sermons did more for me than he will ever know.
Tim Binkele – Pastor of The River and my mentor for the last three years. Tim has helped me process an incredible amount of change and has continued to patiently listen and speak life into areas of my life that need it. He's the kind of guy I want to be someday.
Nic Lines – Church planter moving from the UK to NYC. One of the most incredibly intentional people I know, Nic has taken precious time to speak prophetically into my life and to call out the good in me through great conversations and practical exercises. A genuine, life-giving friend who lifts up everyone around him.
In the final episode of FNL, one of my favorite extended scenes (I've watched it close to 300 times, no joke, ask Meg), occurs when Coach Taylor squats down next to one of the key players on his team. He looks him in the eyes and says, "You may never know how proud I am of you." The player responds, meaning every word, "You changed my life Coach." Those words were not only the admission of one young man in Dillon, Texas whose life was steered away from violence and delinquency. For many viewers, we would say the same thing. I can honestly say that Coach Taylor makes me want to be a better man. He has offered me an image of a loving husband, a strong mentor and a good man. He has caused me to want to live my life with clear eyes and with a full heart, so that I might never lose.
And so, though I may have never played a single game for Coach Taylor and never will, I can and will always say from the bottom of my heart, in honor of the "Kingmaker" and epic hero to tens of thousands…
Texas Forever.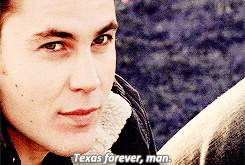 *Note* This blog post was produced while listening to the Friday Night Lights soundtrack. I suggest reading this post while listening to the soundtrack, or a playlist compilation by Explosions in the Sky, who contributed heavily to the soundtrack.
*Note* Here is an easter egg I came across for FNL fans everywhere. Enjoy! 
*Next Hero* Born of German immigrants, this steadfast and humble athlete would earn himself the nickname "The Iron Horse"