I present to you Bobby's World, monthly musings from the one and only Hubby!  Its been a while, but a few months ago he introduced us to his Hero series. Check it out here is you want a little refresher.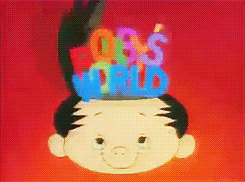 ---
The Apostle to the Skeptics
If there was one person I could meet up with and have an hour long conversation over a cup of coffee, it would be C.S. Lewis.
Now, let me be clear. Lewis would be drinking tea, not coffee. His habit for smoking a pipe would be frowned upon by whatever local coffeeshop I suggested, and we would be thrown out. And he would probably reject the invitation of going out in the first place, unless it was to The Eagle and Child pub for a strong pint, poetry recitations and some story-telling.
If you have never heard of the great C.S. Lewis, you're not alone. The Montclair Library has not heard of him either. However, you may be more familiar with his most popular mainstream piece of children's literature, The Lion, the Witch and the Wardrobe which is part of the larger fantasy series known as The Chronicles of Narnia.
I'm actually kind of glad that I don't have the opportunity to meet Mr. Lewis, because I would lose my mind and probably fall apart in front of him, providing him with ample writing material for a small, foolish character in his next book (which upon second thought would be awesome). Think Leslie Knope meeting Joe Biden… then cube it. I have this guy's poster in my classroom, his headshot reigns on both my school Google account and classroom Twitter account, I consistently Google search "cs lewis reenactments near me" and I have a pair of Narnia-character patterned pajamas. (Ok, I don't actually have those pajamas, but only because they don't exist… yet. I am not above that).
So how in the world am I going to sufficiently explain my admiration for a hero of such personal magnitude? The short answer: I'm not, because I can't. But regardless, my hope is that you walk away knowing a bit more about me by knowing a bit more about Lewis, and that you learn a bit more about yourself.
Clive Staples Lewis was born in Ireland at the turn of the 20th century. Called "plain Jack" by his friends, Lewis was anything but ordinary, with his wild imagination and tall tales that he and his brother created in their childhood. His mother died when he was ten years old, and actually became an emotional source for his agnosticism and later atheism. His father shipped him off to England to receive a proper education through various boarding schools, and therefore we remember Lewis as being "English" when in actuality he was "Irish" and identified himself as such. He would never forgive his father for shipping him off to foreign England after his mother's death, and their relationship would be somewhat estranged up to his father's passing.
Lewis excelled in school and eventually landed himself a scholarship to Oxford, but was soon conscripted into the British army during WWI. He would be wounded on the frontline, which would lead to depression and homesickness, and Lewis would soon be discharged and sent back to Oxford. There, he flexed his intellectual muscle in philosophy, Greek and Latin literature, ancient history and general English. Noticeably gifted, he was hired in an adjunct role for a year at Oxford, and then offered a full-time position the following year. He would teach English Literature for the next 29 years as an Oxford Fellow and Tutor.
During his early years at Oxford, C. S. Lewis would develop friendships that would alter his life, namely J. R. R. Tolkien, author of The Hobbit and The Lord of the Rings. A devout Catholic, Tolkien would play a vital role in leading Lewis to becoming a Christian and developing an intellectually strong faith. Lewis would also enjoy the friendship and support of a literary circle known as the Inklings. A collective of fantasy authors, the Inklings would gather at the local pub every Tuesday to recite old poetry and read their own original work for collegial constructive criticism. I can't imagine what it would have been like to have been surrounded by the likes of Lewis, Tolkien, Owen Barfield and Charles Williams, as they discussed ideas, told stories and debated concepts as a group of friends.
Lewis' teaching career provided him the time and financial support to engage in his love of writing and storytelling. Though best known for his The Chronicles of Narnia series, which are a lot of fun and worth reading, Lewis cranked out a slew of strong works over the course of his life. Some of these include:
Perhaps one of Lewis' shortest works, A Grief Observed, was one of his greatest triumphs. Originally released under a pseudonym, Lewis recorded his experiences and internal turmoil in the aftermath of his wife's death. They had been married for roughly four years late in Lewis' life, and her death came as quite a blow to Lewis. A Grief Observed chronicles his grief, his wrestling with God, and his process of coming to terms with his own selfishness and emotional needs. Ironically, some of Lewis' friends suggested the book to him as a way of processing his loss, not knowing it was he who had written it.
Lewis lived a full life, and it came to an end on November 22, 1963, the same day of the Kennedy assassination. (Interesting fact though, Lewis was technically declared dead earlier that July when he passed into a coma on a hospital bed. He awoke to the surprise of his doctors, checked himself out and enjoyed some beers later that evening with friends).  
So why is this dead author my hero?
More than any other author I've read, I've always felt like C. S. Lewis "got me," as if he knew me and was writing to me personally. It's just something about his approach to writing that is so attractive and seems to connect with me. His logical arguments are presented through such palatable means: fairy tales, fictional stories and some of the most incredible analogies that make perfect sense. In fact, one of my favorite things about Lewis is that he has an extraordinary ability to take something complex and confusing, and explain it in such simple and clear terms. That has to be the teacher in Lewis, and our shared profession also probably makes me like him all the more.
I'm a bit embarrassed to say this, but if I am honest, I'm in awe of his intelligence and its influence on his faith. For better or worse, I've always been swayed and won over by the intelligentsia in the room, and C. S. Lewis takes the day. The man was brilliant, and he left a legacy that has supported a strong, reasonable faith. Nicknamed "the Apostle to the Skeptics," he appeals to the common sense and reason of those who doubt or oppose God's existence, and offers incredible insight and logic as to why they should reconsider their views, as he did. For a Christian, intuitive-thinker (NT) as myself, Lewis writes with a bold and powerful intellect, and ultimately champions a faith that is strong, reasonable and right. It was once said best…
"Lewis, perhaps more than any other twentieth century writer, forced those who listened to him and read his works to come to terms with their own philosophical presuppositions."
But C. S. Lewis does not only appeal to the mind, but to the heart as well. At the end of the day, the strongest reason why Lewis is my hero is because whenever I read any of his works, it makes me want to love God more. I can't tell you how many times I've been at Barnes & Noble reading one of his books and I have to put it down and say to Megan, "This guy makes me want to follow Jesus more closely." Without fail, when I read Lewis, I am moved to love God more deeply, pray more often and live with greater awareness of eternity. Do you have a friend who, when you're done hanging out with them, makes you want to be a better person or go achieve something great? For me, that is C. S. Lewis, and even reading just a quote of his has the effect of pushing me closer to Jesus Christ.
Speaking of quotes, Lewis is king. I would suggest perusing over here… … at your own leisure just to see what I'm talking about. The guy sure can spit a strong one-liner. If you like what you see, I would recommend following some of his fan-based Twitter personalities.
Another suggested link that I stumbled across is a Youtube channel that is devoted to adding time-lapsed sketch art to readings of some of C. S. Lewis' works. "CS Lewis Doodle" is the title of the Youtube channel and it is incredibly helpful to see someone supplement Lewis' words with engaging artwork. Nerd moment… I like to take my lunch break everyday at school by watching one of the videos while I eat. They're short enough (10-15 minutes) that I can handle one or two as a great way to have a thinking, reflective and restful lunch. If you're a Lewisian disciple, you need to check it out. If you're not there yet, you need to check it out.
As I was thinking how to close this out, I felt it would be appropriate to quickly list and briefly highlight some other heroes of mine that I look up to for similar reasons as Lewis. Maybe you'll be interested to check them out as well, or maybe you already look up to them!
Who are your heroes? Who do you look up to? If you could sit down for a conversation with one person, who would it be? What do you think your choice says about you?
It is good to have heroes, and perhaps C. S. Lewis said it best when he wrote, "Since it is so likely that children will meet cruel enemies, let them at least have heard of brave knights and heroic courage."
*Next Hero Hint… This hero of mine married his high school sweetheart, currently resides in Philadelphia, and earned the nickname "The Kingmaker."